Nevada Road Map
---
The scalable Nevada map on this page shows the state's major roads and highways as well as its counties and cities, including Carson City, the capital city, and Las Vegas, the most populous city.
A Paved Road Winds Through the Nevada Desert
Nevada Map Navigation
To display the map in full-screen mode, click or touch the full screen button. To zoom in on the Nevada state road map, click or touch the plus (+) button; to zoom out, click or touch the minus (-) button. To scroll or pan the zoomed-in map, either (1) use the scroll bars or (2) simply swipe or drag the map in any direction. (The scrolling or panning method you use will depend on your device and browser capabilities.) At any time, you can display the entire Nevada road map in a new window or print this page, including the visible portion of the map.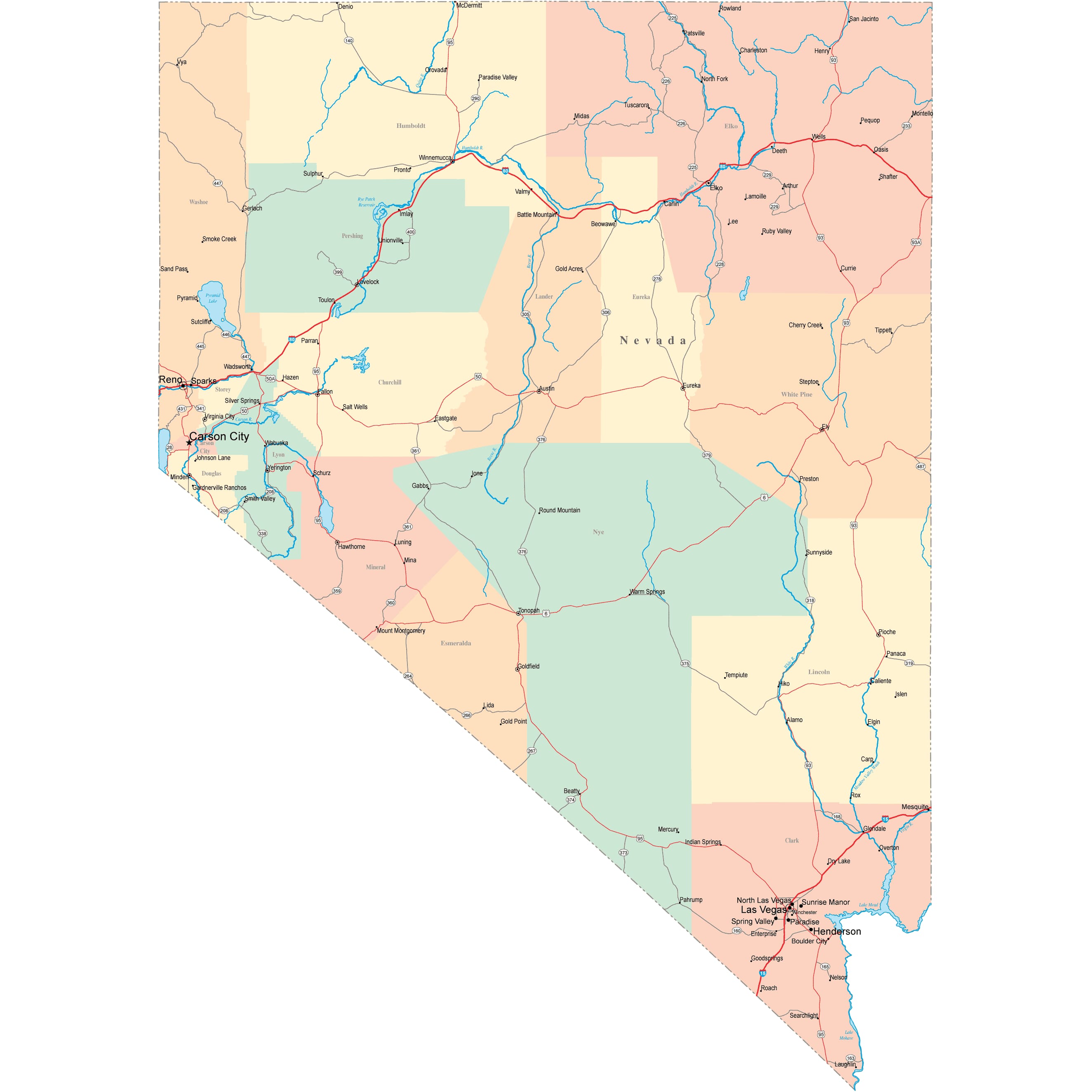 The following Map Legend and Scale of Miles apply to the road map on this page, at its largest displayed scale.
Nevada Map Legend
Nevada Map Scale Of Miles
Nevada Interstate Highways
Nevada's Interstate Highways connect its major cities and facilitate travel between Nevada and its neighboring states. I-15 crosses southern Nevada, passing through Las Vegas, while I-80 traverses northern Nevada, passing through Reno. Two auxiliary Interstate Highways, I-215 and I-515, connect Las Vegas' southeastern suburbs with I-15.
Nevada Scenic Routes
Following what was once a course for the Pony Express, the 350-mile stretch of Route 50 from Lake Tahoe to Ely winds through some of the remote desert of central Nevada and has been called the "Loneliest Road in America". It begins along the eastern shore of the breathtaking lake, and travels through the state capital of Carson City, as well as the cities of Dayton, Fallon, Austin, and Eureka. The latter is a well-preserved mining town that sits at an elevation of 7,484 feet and is home to ancient petroglyphs. More information about scenic roads in Nevada is available on this America's Byways: Nevada page.
Nevada Road Travel Resources
For more information about Nevada's roads and transportation infrastructure, visit the Nevada Department of Transportation website. For Nevada road traffic conditions, visit the Federal Highway Administration's Nevada Traffic Information page.
---
Copyright © 2005-2023 State-Maps.org. All rights reserved.
Nevada-Map.org is a State Maps reference source.

Nevada Road Map
Nevada Travel Map - NV Highway Map